This weeks theme on stampin for the weekend is 'back to school' with our fabulous sponser being... Simon says Stamp, who has a $25 shopping voucher for the lucky winner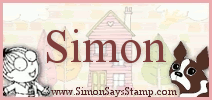 T
he easiest thing about this challenge was that I had plenty of stamps to choose from and hardest thing was finding time to actually make the card....
I have used Tilda with slate and School desk from magnolia which have been coloured in using the following copic markers:- C1,C3,C5,C7, 0, E00, E21, E31, E33, E35, E37, E51, R17, R20, RV29, R46, W1, & W3. These were then mounted onto white textured card and then onto silver mirror card and then adhered to the magnolia DP from the 'Something Old' collection, which was then placed onto blue card.
I then used one of the new magnolia dies for the decorative border and attached ribbon and a bow, which was then fixed to the card. I used 'doodlebug' rub-ons to create the sentiment and added one flower in cornflower blue and two white ones and finished the card off by adding a cherry brad and a couple of buttons also available from doodlebug.
I do hope that you have enjoyed looking and please feel free to leave a comment.
Hugs x